Prokaryotes: Meet the Microbes

Main Page

Virtual Microbiology Classroom of Science Prof Online

Prokaryotic Microbe Lecture Materials

These are the 
Prokaryotes: Meet the Microbes Lecture Materials
 of the Virtual Microbiology Classrooms (
8-week
& 
16 week
). The resources below are used to supplement an actual college microbiology course.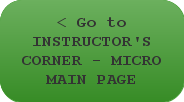 On 9/18/12 the National Public Radio (NPR) show 
Talk of the Nation
 featured a story on superbug antibiotic resistant strains of 
Klebsiella pneumoniae
: "
Hospitals Fight To Stop Superbugs' Spread
". This is important information on scary new bugs and what healthcare institutions are doing to protect their patients and employees. 
Click here
 for a Virtual Microbiology Classroom  assignment to go with the story.
LEARNING OBJECTIVES

Understand the three types of Archaea that we discussed.

Know the three levels of hierarchy in biological classification (out of the nine we discussed) that we are mainly going to be referring to in this class.

Know the information presented on the Gram-positive bacterial genera and species that we discussed.

Name and describe the  bacterial genera that produce endospores. Are they Gram-positive or Gram-negative?

Which species of bacteria are considered Gram-variable? Why?

How is Blood Agar (BAP) useful in distinguishing between the pathogen Streptococcus pyogenes and normal flora?

Know the information presented on the Gram-negative bacterial genera and species that we discussed.

How is MacConkey's agar useful in identifying different types of Gram-negative bacteria?

Describe the important differences between encapsulated and unencapsulated Haemophilus influenzae. 

How is the life cycle of Chlamydia different than that of most bacteria?

LECTURE POWERPOINT

Versions of Prokaryotic Microbe PPT:​

Printing: The best way for students to print out the PowerPoint Show is to download the PDF version. Select Print, and, when the Print screen comes up, go to the Print Handling options. Under Page Scaling, select "Multiple pages per sheet", under Pages Per Sheet, select "2". That uses up less paper, placing two slides on each page.

The Prokaryotic Microbes lecture materials include:

prokaryote classification homework assignment  

practice test & review questions

TV show, from Animal Planet, presenting case studies of  people with parasitic infections. So interesting, you'll learn about parasitism without even trying!

Check out our FREE "Monsters Inside Me" Homework Assignments 

Page last updated: 2/2016


You have free access to a large collection of materials used in a college-level introductory microbiology course. The Virtual Microbiology Classroom provides a wide range of free educational resources including PowerPoint Lectures, Study Guides, Review Questions and Practice Test Questions.

The VMC offers homework assignments based on Radiolab podcasts. 

RADIOLAB PODCASTS: 

HOMEWORK ASSIGNMENTS:

PROKARYOTIC MICROBE HOMEWORK ASSIGNMENTS 

Monsters Inside Me Video Clips:

Additional homework assignments appropriate for this lecture topic: