Medical Terminology

 Review Questions

Virtual Anatomy and Physiology Classroom of Science Prof Online

3. Define etymology then describe its importance to understanding medical terminology.

4. Compare and contrast the terms eponym, prefix, suffix and root as they apply to medical terminology.

5. Explain a recall technique that can be used for studying medical terminology.

6. Describe the difference between anatomical regions and anatomical directions.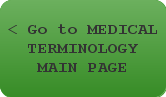 Medical Terminology Review Questions

1.Describe the purpose of medical terminology as used by medical professionals.

2.Why are most medical terms made up of parts of Greek and Latin words?

These multiple choice and true/false questions are designed to help students practice and test their understanding 
Medical Terminology
 concepts.
FREE 

Medical Terminology Flashcards

Word Elements & Abbreviations


The Virtual Anatomy and Physiology Classroom provides a wide range of free educational resources including PowerPoint Lectures, Study Guides, Review Questions and Practice Test Questions.