Acids, Bases, Buffers & pH

Review Questions

Virtual Cell Biology Classroom of Science Prof Online

Acids, Bases, Buffers & pH Review Questions

Free multiple choice and true/false questions designed to help students practice and test their understanding of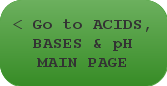 2. Compare and contrast acids bases and salts.

​3. Understand the relationship between ions and pH.

4. Understand the relationship between the atoms in a water molecule and pH.

5. Which range of numbers represent an acidic solution? A neutral solution? A basic solution?

6. Chemically, what differentiates a strong acid from a weak acid?

7. Explain the relationship between the terms "ions", "salts" & "buffers". 

8. Explain what it means that the pH scale is logarithmic.

Page last updated: 

5/2016


You have FREE access to a large collection of materials used in a college-level introductory biology course. The Virtual Biology Classroom provides a wide range of free educational resources including PowerPoint Lectures, Study Guides, Review Questions &  Practice Test Questions.