Microbial Genetics 

Practice Test Questions II

Virtual Microbiology Classroom of Science Prof Online

Free review questions to help students better understand this topic.

​Microbial Genetics Test Questions - Part 2

Page last updated: 2/2016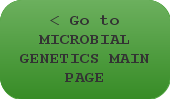 a. polypeptide      b. RNA      c. DNA      d. protein   

b. a complimentary 
RNA molecule
 is made based on information in the DNA template
c. protein is made by the coordinated efforts of DNA and RNA

d. the replication bubble unwinds in the antiparallel direction

5. The 'triplet code' is...

a. a series of 3 nucleotide bases that code for an amino acid

b. a set of three amino acids on a protein

c. a series of genes that code for a specific trait

d. how a woman becomes pregnant with three babies at once

6. The anti-codon is ...

a. an evil amino acid

b. the same as the codon

c. complementary to the codon

d. found on mRNA

e. produced through replication

7. Francis Griffith did experiments with Streptococcus pneumoniae and discovered:

a. transcription   

b. transduction   

c. transformation   

e. translation

8. The beta-lactamase example that we discussed in lecture was used to teach you about…

a. transformation 

b. transduction

c. gene expression

d. genetic engineering

e. replication

9. DNA is an organic polymer (a big molecule) composed of monomers (building blocks) called…

a. amino acids   b. nucleic acids   c. nucleotides   d. phospholipids   e. peptides

​10. The chromosome of a prokaryote is called a...
a. nucleus    b. nucleolus    c. plasmid    d. nucleoid    e. RNA

Click here
 for MORE Microbial Genetics practice test questions.
1. Which is the process of making proteins from the instructions provided in RNA?

b. translation     

c. transcription      

d. cell division

2. The 3 nucleotide group that codes for one amino acid is called...
a. nucleosome   

b. polypeptide   

c. ribonucleic acid   

d. codon    

e. primer

3. If a nucleic acid contains the bases A-U-G-G-C, it would have to be a molecule of...


The Virtual Microbiology Classroom provides a wide range of free educational resources including PowerPoint Lectures, Study Guides, Review Questions and Practice Test Questions.

WHICH GENETIC TRAITS DO YOU HAVE?