Prokaryotes: Meet the Microbes

 Practice Test Questions I

Virtual Microbiology Classroom of Science Prof Online

Prokaryotic Microbes Test Questions - Part 1

2. Which genus of bacteria have cocci shaped cells that are arranged in a cluster?

a. Bacillus                

b. Staphylococcus               

c. Mycobacterium

d. Streptococcus                 

e. Salmonella

3. The cell wall of Mycobacterium, although waxy, is more similar to which type of cell wall?


a. 
Gram-positive
                   b. 
Gram-negative
4. Tuberculosis and leprosy are caused by a type of bacteria that…


a. has a waxy cell wall

b. produces endospores

c. is gram-negative

d. is an intracellular pathogen
5. E. coli is …


#1. Gram-negative

#2. Gram-positive

#3. a lactose 
fermenter

#4. a non lactose fermenter
a.

#1
b.

#2
c.

#1 and #3
d.

#2 and #3
e.

#1 and #4
1. Which genera can produce 

a. Mycobacterium 

   & Clostridium

b. E. coli 

   & Bacillus

c. Salmonella 

   & E.coli

d. Staphylococcus 

   & Clostridium

e. Bacillus & 

Review questions to help students better understand this topic.

Pathogenic bacteria 

Staphylococcus aureus, also known as Golden Staph.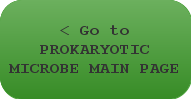 Page last updated: 1/2016

You have free access to a large collection of materials used in a college-level introductory microbiology course. The Virtual Microbiology Classroom provides a wide range of free educational resources including PowerPoint Lectures, Study Guides, Review Questions and Practice Test Questions.

The VMC offers homework assignments based on Radiolab podcasts. 

RADIOLAB PODCASTS: 

HOMEWORK ASSIGNMENTS:


a. 
Blood agar

b. TSY

c. 
Mannitol Salt

d. 
MacConkey's
7. Which type of Haemophilus influenzae bacteria could be considered  normal flora?
a. encapsulated                b. unencapsulated

8. Which genus of bacteria must reproduce inside an infected cell (i.e. is an obligate intracellular pathogen)?


a. 
Bacillus   
b. Neisseria  

c. Chlamydia   

d. Staphylococcus   

e. Salmonella

9. Which is a type of Archaea?

a. Methanogens   

b. Mycobacteria  

c. Eukarya 

d. Mycoplasma 

e. Thermostat


a. True                          



b. False
Click here
 for MORE 
Prokaryote Meet the Microbe 
Practice Test Questions.