Virus Structure 

Review Questions 

Virtual Microbiology Classroom of Science Prof Online

Virus Structure Review Questions

​These multiple choice and true/false questions are designed to help students practice and test their understanding of this topic.

You have free access to a large collection of materials used in a college-level introductory microbiology course. The Virtual Microbiology Classroom provides a wide range of free educational resources including PowerPoint Lectures, Study Guides, Review Questions and Practice Test Questions.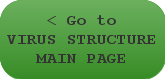 1.  What are 
viruses
 and how are they differ from living organisms.
2. Describe the four types of genetic material that viruses can be made of. 

3. How are the genomes of viruses different from the genomes of living things? How are they similar?

4. What are the three main structural elements that viruses can be made of. Which of these structural elements is not present in all virus4. What is the difference between an enveloped and non-enveloped virus.

5. Where and how do enveloped viruses obtain their envelopes?

6. Describe the different shapes of viruses.

7. How are viruses primarily classified (sorted out)?